How To Effectively Plan Your Kitchen Remodel
If you're planning a kitchen remodel, you probably know that the best part (other than the reveal) is the design process. Finally, you'll be able to choose the counters and floor and layout that works best for you.
So before you get started, here are a few things that you should keep in mind.
Pick Your Kitchen Layout
There are several different layouts, including:
Maybe you're remodeling because your kitchen layout is so inefficient. Perhaps you're doing it for entirely different reasons. Either way, you should take a look at how your kitchen is set up. You may find that it can be updated to fit your needs.
L-shaped
U-shaped
G-shaped
Straight
Corridor
To decide what kitchen layout is best for you, consider the architecture of your home. Which of these fits your space best?
Most kitchen designers suggest setting up a 'kitchen triangle', which is possible with all but the straight layout.
The kitchen triangle is the area that gets the most activity – your stove, sink, and refrigerator. Since your sink gets the most action of the three, it should have the easiest access to your fridge, stove, and counters.
Maximize Your Storage
Your kitchen is probably overflowing. Between cookware, dishes, appliances, utensils, food, and Tupperware, it can be hard to find a place for everything.
It's especially hard if you don't make use of all of your available space.
You may have cabinets covering the length of your wall, but what about the height? So many of us forget to take advantage of the vertical space that we have, and instead, we struggle to contain our clutter.
Put in extra-long upper cabinets, and you'll maximize your space.
Don't Skimp on Counter Space
Your counters are a huge part of your kitchen design.
One of the biggest complaints most people have about their kitchens is that there isn't enough counter space for them to work with. We often underestimate just how much space we take up when we're cooking.
Err on the side of caution. You can never have too much counter space, (unless of course, you can no longer walk into your kitchen.)
An island may be a good idea if your kitchen allows it. It offers more surface area and can easily be within reach of every point of your kitchen triangle.
Install Better Lighting
Lighting is an incredibly important upgrade, yet many of us don't give it much thought.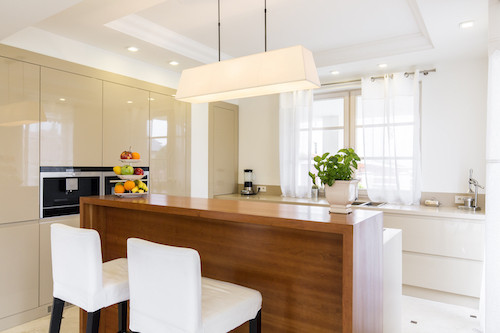 But for a room with sharp knives, hot cookware, and spills on the floor every now and then, lighting should be at the forefront of your mind.
An excellent way to illuminate your space is to make use of multiple levels. Under-cabinet lights give you better views of your workspace, a pendant can lighten up the entire area, and recessed ceiling lights provide that extra touch of brightness.
Take Your Time With the Floor
Choosing a floor for your kitchen is a big decision because it can last up to a decade before it needs any kind of touch up. Whatever you choose, it will be with you for a while.
Some flooring options are:
Bamboo
Hardwood
Tile
Vinyl
Laminate
Each of these has its pros and cons. Before you decide, take some time to figure out how you feel about durability, discoloration, costs, and how often you're willing to retouch. All of these considerations should go into your decision.
Hire a Professional
If you really want to get the kitchen of your dreams, you should consider consulting with a professional.
Not only will you get to pick their brains, but you'll also get access to proven and quality contractors for a better rate than if you hire them yourself.
Just make sure you pick the right one for your kitchen remodel, or you may be wasting your time and money.
With Enhancements Inc., you'll have access to a professional designer, (among other incredible services), who will make sure you get everything you want and need.
Just call us today for a free consultation.